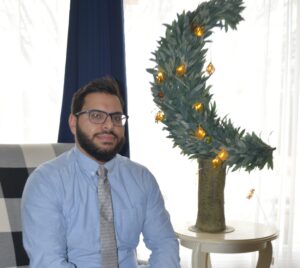 A board licensed and certified primary eye care physician with expertise in managing and treating patients with ocular surface disease/dry eye, glaucoma, retinal disorders, refractive errors and pediatrics. Dr. Ghaleb specializes in the diagnosis, treatment, and management of both acute and chronic eye diseases including, but not limited to diabetes, emergency eye care glaucoma, and macular/ retinal disorders. He works closely with other specialists to diagnose, manage, and treat a wide array of systemic conditions that can affect the eye such as, Diabetes, Hypertension, and Thyroid dysfunction. 
Dr. Ghaleb works closley with surgeons and can advise and counsel patients regarding surgical and non-surgical options to meet their visual demands and improve quality of life. LASIK/Refractive eye surgery and Cataract Consultation, including pre and post operative care/management.
Dr. Ghaleb collaborate closely with other specialists, he diagnoses, manages, and treats a broad range of systemic conditions that may impact the eye, including diabetes, hypertension, and thyroid dysfunction. 
Dr. Ghaleb graduated from Wayne State University where earned his Bachelor of Science in Psychology and a minor in English. He then sought his professional degree at the illustrious Illinois College of Optometry earning is Doctorate in Optometry. While in Chicago he organized and participated in a wide assortment of community efforts, including addressing visual needs for hundreds of athletes in the Special Olympics.
Dr. Ghaleb completed his clinical training in Illinois, South Carolina, and Michigan where he was trained in over 400 hours in various specialties. For example while in South Carolina Dr. Ghaleb was involved in the Vision Therapy Institute, working with children with and without development issues, as well as adults with Traumatic Brain injuries (TBI). His time spent at the Illinois Eye Institute was disease oriented; treating and managing thousands of patients with glaucoma/Optic nerve disease and various retinal disease that were comorbid with systemic diseases. 
Dr. Ghaleb loves jokes and is known to make some good and a few not so good ones while in clinic. He also loves to read SciFi/Fantasy novels and playing video games on his free time. Feel free to tell him a joke when you next see us. 
Dr. Ghaleb and the Platinum Eye Center family/staff are dedicated towards serving patients and the community by enhancing their quality of life. Dr. Ghaleb often says " Eye care means that I care."