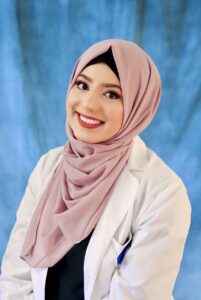 Dr. Qanita Ali is a highly-skilled and compassionate Podiatric Physician and Foot and Ankle Surgeon. Dr. Ali provides care in a broad spectrum of foot and ankle conditions with a special interest in diabetic limb salvage, foot and ankle reconstruction, total ankle joint replacements, trauma, wound care, sports medicine, and elective surgery. She is dedicated to restoring mobility and improving the quality of life for her patients.
Dr. Ali graduated with academic distinction from the University of Michigan, Ann Arbor, with a Bachelor of Science in Biopsychology, Cognition, and Neuroscience. Following this, she received her Doctor of Podiatric Medicine from Kent State University in Cleveland, Ohio. She then completed her residency at the highly regarded Beaumont Health Wayne Podiatric Medicine and Surgical Residency, with added credentialing in Reconstructive Rearfoot/Ankle surgery under the mentorship of Dr. Lawrence Fallat. During this period, she served as Chief Resident, overseeing complex cases, honing her surgical skills, and expanding her clinical proficiency.
Complementing her clinical work, Dr. Ali maintains a strong involvement in research. She has contributed to a number of published studies in her field, with a focus on innovative surgical techniques and treatment methods. Her research encompasses a variety of subjects, including surgical treatments for foot and ankle conditions, the use of 3D-printed implants for total joint replacements, successful Charcot reconstruction techniques, osteomyelitis infection treatment protocols, and specialized skin flap techniques. These contributions have earned her multiple awards at various conferences and research competitions. 
Dr. Ali's proficiency in both English and Arabic languages allows her to cater to a diverse set of patients, ensuring clear communication and understanding. She is committed to delivering high-quality, patient-centered care.