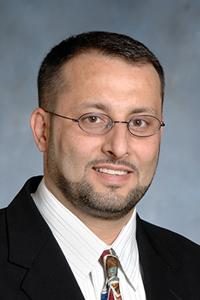 Opada Alzohaili, M.D., F.A.C.E
Dr. Alzohaili is a board certified endocrinologist with over 20 years experience. He specializes in Traumatic Brain Injuries, Pituitary Deficiencies, Growth Hormone Deficiency, Adrenal Insufficiency, Diabetes, Thyroid Disorders, hormone Imbalances, and Osteoporosis.
He is the Clinical Assistant Professor at Wayne State University, Chief of Endocrinology, active teaching staff in endocrine and medicine programs at several local hospitals.
He is a frequent national and international speaker in various countries. He has also written several publications and received numerous awards for teaching.
He is the founder and director of Metro Detroit Endocrinology Center; one of the busiest endocrinology centers with over 35,000 patients in the practice with emphasis on Traumatic Brain Injury and Pituitary Gland Disease.