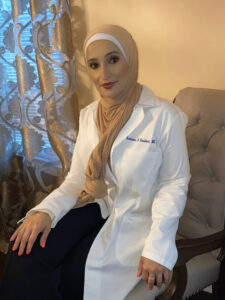 I am Antesar Zindani, a dedicated and compassionate certified Physicians Assistant with 3 years of experience in providing comprehensive medical care and currently specializing in endocrinology. My passion for healthcare and commitment to patient well-being are what drive me to deliver the highest quality of care to each individual I have the privilege to treat, as I work collaboratively with a supervising physician.
I completed my Physicians Assistant degree from the University of Detroit Mercy in 2020 and have since pursued continuous professional development to stay current with the latest medical advancements and best practices. I am certified by the National Commission on Certification of Physician Assistants (NCCPA), and my training includes 100 continued medical education credits every 2 years.
My philosophy revolves around patient-centered care. I firmly believe that effective healthcare begins with active listening, open communication, and empathy which are essential components of building strong provider-patient relationships. This patient-centered approach not only allows patients to be involved in their healthcare decisions, but also ensures that they are well-informed and actively participate in their treatment journey which leads to better outcomes.
My expertise lies in diagnosing and treating a wide range of endocrine disorders, including Diabetes, Thyroid Disorders,  and Hormonal Imbalances. I am dedicated to providing comprehensive, evidence-based care that addresses the unique needs of each patient.
Collaboration is at the heart of my practice. I work closely with physicians, nurses, dietitians, and other healthcare professionals to ensure seamless coordination of care for every patient. By fostering a team-oriented environment, I strive to provide comprehensive solutions that address all aspects of a patient's health.
One of my goals is to empower patients with knowledge about their endocrine health. I am dedicated to providing clear explanations of diagnoses, treatment options, and lifestyle modifications. Through education, I aim to equip patients with the tools they need to actively participate in their journey toward better health.
Beyond my clinical practice, I am passionate about community health. I actively participate in local health fairs, workshops, and educational events to promote health awareness and preventive care. By engaging with the community, I aim to empower individuals to take control of their health.
Outside of work, I enjoy spending time with family and traveling, which not only help me unwind but also contribute to my overall well-being. I firmly believe in maintaining a healthy work-life balance to be at my best for both my patients and myself.
Thank you for considering me as a partner in your healthcare journey. I look forward to providing you with exceptional medical care and fostering a lasting doctor-patient relationship.